You want your parts to look more unique in the market? then the surface finish will be a good way to realize the perfect effect. We are prepared to provide a full range of services from sand-blasting, printing, anodizing, plating, polishing, and painting to the exact color you want.
Anodizing
Why more and more customers prefer to add anodizing after #cncmachining? since it helps to resist corrosion, increase surface hardness, improve resistance to wear and dissipate heat. and it looks great too.
In my factory, the most often used colors are silver, black,red and blue which is available even for samples making. If you want to try different colors, send us panton# and we'll match it for you.
Plating
Plating is a surface covering in which a metal is deposited on a conductive surface.It is used to decorate objects, for corrosion inhibition, to improve solderability, to harden, to improve wearability, to reduce friction,etc. The most often used plating methods here for cnc machine parts are chrome plating, zinc plating, nickel plating, electroless nickel plating.
Below is a part with chrome plating for your reference.
Sandblasting
also known as abrasive blasting,is the operation of forcibly propelling a stream of abrasive material against a surface under high pressure to smooth a rough surface. From our experience,many customers would like to do it for aluminum parts together with anodizing.
Below is the cnc machining aluminum block with sandblasting and black anodizing.
Painting
A great painting job can make your parts stand out easily, right now a big part of our customers are from USA and they work in automation industry, so it's very important to make high precision equipmen with a fantastic look, which can be either in matte or glossy finishes. You can provide a sample or Pantone? or RGB color and we'll do it exactly as required.
Laser Marking
also called laser engraving, is the practice of using lasers to engrave an object. it's quite cheap and fast, you just need to provide your cad files with the right text and logo, we'll do it on your parts accurately. but if you want the text to be deep in the parts, the other choice is to choose etching which can be done by cnc engraving machine, and it takes much more time and expensive.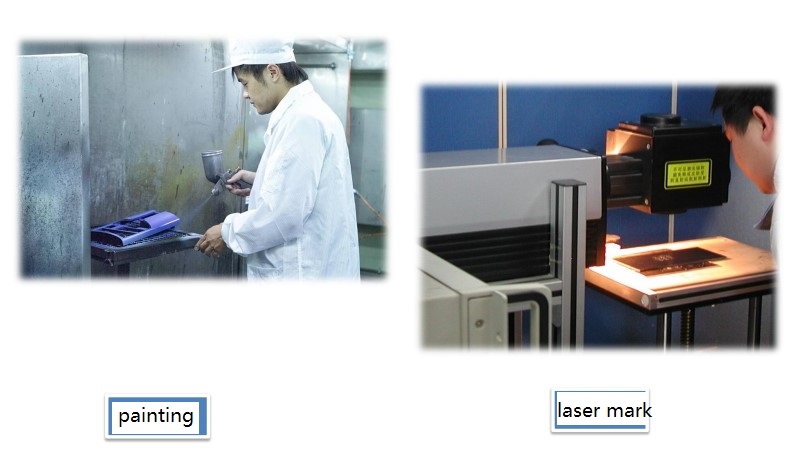 Polishing
On some occasions, customers would require special surface finish like 0.8μ which can't be reached by machining directly, so polishing is ideal to achieve the clear surface. On the other cases like plastic molding, the products need to be smooth, we can also do it by polishing the cores and cavity.